September 2020
The Benefits of Personalized Managed IT Services
Personalized managed IT services are vital to the success of a company. At Sierra we value our customers and we are here to provide you with great service and solutions. We don't transfer you around to find your solution, we speak with you directly, providing answers and results. Sierra never leaves you stranded when you need an answer.
There is no one-size-fits-all solution when it comes to IT management. Everyone has different needs and goals. This is where Sierra's more tailored approach to IT management can be of extra benefit to individuals and businesses. We offer a more personable approach that is unique to you and your business goals. Recently we had a customer contact Google with regards to the loss of their data and the technician was unable to retrieve it, however, after contacting Sierra we were able to find where the data had been placed and it was retrieved—success and a happy customer. Before contacting Microsoft or Google to work on your data or equipment, consider consulting with Sierra for the solution.
We dedicate ourselves to providing quality service with solutions—from common questions to specific service requests our IT support will put forth the effort needed to go above and beyond. A job is never left undone or in disarray and shortcuts are never taken. The end result is better value for cost.
Your time is valuable and selecting the wrong managed IT services provider for your business can be both costly and time-consuming. By having Sierra in your corner you can focus on your business by knowing you have an IT company that understands your financial situation and cares about your business and its overall success and growth!
July 2020
Happy Independence Day!
From all of us here at Sierra Corporation, we hope that everyone has a happy and safe Fourth of July.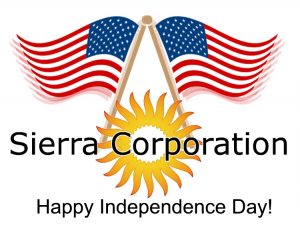 At Sierra it is our priority to continue to provide reliable managed IT services so that you can rest easy knowing that your data is protected on and offline. From remote desktop support services to on site it management, we are here to assist with all of your IT needs.
June 2020
New Discoveries Await!
As the world begins to reopen again, new discoveries await. Many places are reopening and we hope everyone can find a way to enjoy these new times. Be well and be safe!
While teleworking continues to be a popular option for many businesses, please know that hackers are aware of this and are constantly looking for ways to infiltrate your home network. Do not click on links if you are not confident in the sender, as it could contain a virus that will download into your computer. Be wary of potential phishing emails from the WHO or CDC claiming to have coronavirus info and do not open documents unless you are certain of the source as they could contain malware. Make sure your anti-virus and anti-malware software is up-to-date. Please do not hesitate to reach out to us for any concerns you may have regarding your network security.
At Sierra, protecting our clients is our top priority! We are always looking for better more innovative ways to protect against these threats. During these difficult and concerning times one thing is certain, Sierra Corporation is here for you and always will be. Please rest assured that we are here and available to resolve any IT related issue that you may have so you can conduct your business. For support please call (703) 847-3123 and choose Option 5.
Stimulus Check Scams
If you or someone you know is still waiting for their stimulus check please be cautious about any phone calls you may receive. Avoid and refrain from giving out personal information. Please always refer to the official government websites when looking for updates regarding stimulus check:
Internal Revenue Service - https://www.irs.gov
For information regarding stimulus checks to social security beneficiaries please visit:
At the time of this writing, there is only one approved stimulus check. This may be subject to change beyond this date. Always check official government websites and trusted media outlets for the most current and up-to-date information. Please note that some individuals who have not received their stimulus check may receive the new economic impact payment cards issued by the United States Treasury. We encourage everyone to check and read all mail carefully before discarding anything. Official information regarding economic impact payment cards can be found here:
https://www.eipcard.com/ and https://www.irs.gov/coronavirus/economic-impact-payment-information-center
Coronavirus/COVID-19 Scam – claiming Social Security Administration will Suspend/Decrease Benefit
Do not trust a letter received in the U.S. mail that states you need to call the phone number in it or there will be a change in your Social Security payment. If you call the scammer will tell you that because the office is closed they need to get your financial and personal info in order to continue your payments—do not respond, report the call to the Office of the Inspector General - https://oig.ssa.gov/
April 2020
Sierra is here for you
We hope that you and your family are staying healthy during this very challenging time.
Monday of last week, due to the COVID-19 outbreak, Sierra implemented response measures to maintain business continuity and to provide a maximum level of security for our employees, their families, and our clients. As a result of these actions, our employees, including our support department are working remotely from their homes using a secure connection to Sierra's datacenter HQ.
We will continue to monitor all networks, servers, websites, PCs, and other devices to make sure they are up-to-date and secure. Our commitment to providing quality service remains our top priority.
Please rest assured that we are here and available to resolve any IT related issue that you may have so you can conduct your business. For support please call (703) 847-3123 and choose Option 5.
Our thoughts go out to all the valiant people working on the frontlines to defeat this virus. We are confident that if we each do our part to combat this virus, then in time we will be able to return to a more normal way of life.
Be healthy and well!