Fake Jobs on the Rise
According to the FTC (Federal Trade Commission), in the first quarter of 2022 $68 million was lost due to fake business and job opportunity scams and in the second quarter 21,600 cases were reported, many resulting in financial loss. Don't be scammed by falling for a fake job. It's happening a lot and in many different ways—whether it's by someone(s) pretending to be a reputable employer posting fake job listings on sites and creating fake websites; a fake temp/staffing agency requiring a fee for services; fake setups that appear through LinkedIn's "Easy Apply" function; fake government, shopping or postal jobs; fake jobs that state you can make money by working from home like the re-shipping scam advertised as "quality control managers" or "virtual assistants" and the re-selling of merchandise; or the simple phone call, text or email offering a job.
A clear red flag is when a potential employer in some manner tries to get money up-front from you. It's probably not a good sign if you are asked to download a messaging app in order to answer further questions for a job interview. In one kind of a fake job scam, you are asked to complete employment paperwork, scan your driver's license, and submit bank info for direct deposit. Then asked to buy your own equipment (laptop, phone, etc.) from the company's own site and told they will reimburse you with a check. Sometimes the check is sent first for you to deposit, hoping you buy from their portal, before you find out that the check has bounced. This is known as a "fake check scam". 
People hired for re-shipping scams do not end up getting paid. The scammers use stolen credit cards that are used to buy expensive electronics and then ship them to the hired person to re-ship to a new address, usually overseas. Re-selling scams are also prevalent, people are hired and told they can buy brand-name products for less and make a profit, but after paying the package never arrives. 
Never give your social security number until after you are hired and only after you can confirm the identity of the person you are giving it to. Once you give it to a fake employer, identity theft becomes a problem. It can be used to open new accounts in your name or apply for a driver's license or passport.
One of the best ways to avoid a job scam is to verify the job directly with the employer by finding the contact information for the company on your own. This may be the more difficult way to go about getting a job, but the chances of getting scammed are less. Cover letters and reaching out to a company may bring more success.  Do not use information that was provided to you via an unsolicited message. It's always a good idea to check the company/person's name you have been given with the Better Business Bureau or by searching the internet using the words "scam," "complaint" or "review" in front of the company/person's name.
If a scam happens to you, report it to the FTC (Federal Trade Commission) - https://reportfraud.ftc.gov/ The FTC will even help you to report and recover from identity theft - https://www.identitytheft.gov
Warning signs:
• Job postings appear on job boards, not on the company's website
• Interviews not conducted in-person or through a secure video call, but on a teleconferencing app using an email address instead of a phone number
• Potential employers/scammers contact victims through non-company email domains and teleconference applications
• Recruiters/managers don't have profiles on the job board or the profiles do not seem to fit their roles
• Potential employers/scammers require employees to purchase start-up equipment from the company or pay for background screenings
• Potential employers/scammers request credit card information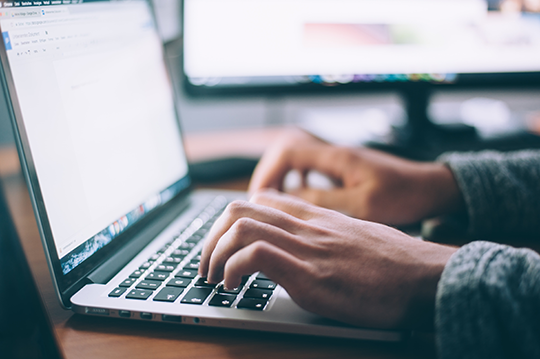 Dependable Support and Security
Being your managed service provider, we understand that downtime is never acceptable. As a Sierra client, we actively monitor your systems to ensure that all your systems are up to date and running smoothly with the best security practices in place. The world of IT is always changing, but you can rest easy knowing that our team of knowledgeable technicians and support specialists are always just one email or phone call away.


Having been in business for over 20 years, we know the industry and understand the struggles that come with running a business. Your success is important to us and we will always look forward to servicing your IT management needs in the future.


Please call 703-847-3136 for a free 15-minute consultation.


Our Services
‍Since 1998 Sierra Corporation has been providing IT and Computer Services.  We are proud to provide IT Solutions that help businesses like yours be more efficient, productive, and profitable.
On-site or Remote Technical Support

Computer/Server Repair

Network Configuration/Troubleshooting

Server Configuration/Troubleshooting

Data Recovery/Prevention of Lost Data

Simple and Complex Secure Back-up Solutions

Monitoring Tools – that can be deployed to assist in resolving issues with your network and devices.

VoIP Phone Systems – Stop paying huge phone bills! – provide voice service over the internet. Enables you to have a full featured phone system similar to what Fortune 500 companies use, but at a much lower cost!

Web Hosting, Email Hosting & Development

Website and web application development

New Computer Hardware – we do not mark-up equipment sales to our clients, our discount is passed onto you, and so you get great prices when you need equipment! we are a reseller for Dell
You will find our response time to be the fastest in the business!
 

‍Sierra Corporation
VA (703) 847-3123
______________________________
IT Solutions
Web Application Development
DELL Reseller
Sierra Corporation
https://www.sierracorporation.com
Confidentiality Notice: This communication is from Sierra Corporation, and is not sent on behalf of any other individual or entity. This email may contain information that is confidential and/or proprietary. Such information may not be read, disclosed, used, copied, distributed or disseminated except (1) for use by the intended recipient or (2) as expressly authorized by the sender. If you have received this communication in error, please immediately delete it and promptly notify the sender. E-mail transmission cannot be guaranteed to be received, secure or error-free as emails could be intercepted, corrupted, lost, destroyed, arrive late, incomplete, contain viruses or otherwise. Sierra Corporation does not guarantee that all emails will be read and do not accept liability for any errors or omissions in emails. Any views or opinions presented in any email are solely those of the author and do not necessarily represent those of Sierra Corporation. Nothing in this communication is intended to operate as an electronic signature under applicable law.
____________________________
Your referrals are always appreciated.
 Please send any comments or suggestions through
https://www.sierracorporation.com/contact-us/
or fax to (703) 935-8543; and as always, you can call us at (703) 847-3123.

Thank you for your business!

https://www.sierracorporation.com
© Sierra Corporation 1998-2022