Happy Independence Day!
Sierra Corporation would like to wish you and your family a fun and memorable Independence Day!
Celebrate freedom knowing it makes it possible for each and every one of us to live our lives to the fullest. As we take part in festivities this fourth of July, please take a moment to remember all of those who have fought and all of those who continue to fight for the very freedoms we cherish today. Please stay safe and enjoy the holiday!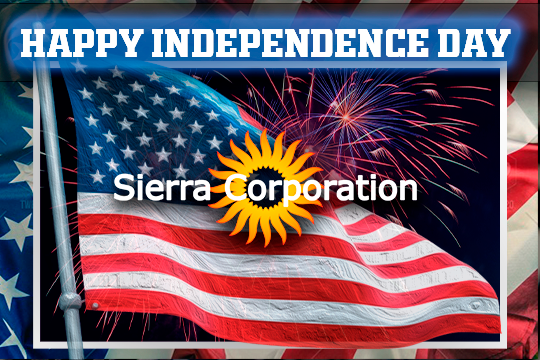 ‍
At Sierra it is our priority to continue to provide reliable managed IT services so that you can rest easy knowing that your data is protected on and offline. From remote desktop support services to on site it management, we are here to assist with all of your IT needs.
‍Our Services
‍Since 1998 Sierra Corporation has been providing IT and Computer Services.  We are proud to provide IT Solutions that help businesses like yours be more efficient, productive, and profitable.
On-site or Remote Technical Support

Computer/Server Repair

Network Configuration/Troubleshooting

Server Configuration/Troubleshooting

Data Recovery/Prevention of Lost Data

Simple and Complex Secure Back-up Solutions

Monitoring Tools – that can be deployed to assist in resolving issues with your network and devices.

VoIP Phone Systems – Stop paying huge phone bills!–provide voice service over the internet. Enables you to have a full featured phone system similar to what Fortune 500 companies use, but at a much lower cost!

Web Hosting, Email Hosting & Development

Website and web application development

New Computer Hardware – we do not mark up equipment sales to our clients, our discount is passed onto you, and so you get great prices when you need equipment! we are a reseller for Dell
You will find our response time to be the fastest in the business!
 

‍Sierra Corporation
VA (703) 847-3123
______________________________
IT Solutions
Web Application Development
DELL Reseller
Sierra Corporation
https://www.sierracorporation.com
Confidentiality Notice: This communication is from Sierra Corporation, and is not sent on behalf of any other individual or entity. This email may contain information that is confidential and/or proprietary. Such information may not be read, disclosed, used, copied, distributed or disseminated except (1) for use by the intended recipient or (2) as expressly authorized by the sender. If you have received this communication in error, please immediately delete it and promptly notify the sender. E-mail transmission cannot be guaranteed to be received, secure or error-free as emails could be intercepted, corrupted, lost, destroyed, arrive late, incomplete, contain viruses or otherwise. Sierra Corporation does not guarantee that all emails will be read and do not accept liability for any errors or omissions in emails. Any views or opinions presented in any email are solely those of the author and do not necessarily represent those of Sierra Corporation. Nothing in this communication is intended to operate as an electronic signature under applicable law.
____________________________
Your referrals are always appreciated.
 Please send any comments or suggestions through
https://www.sierracorporation.com/contact-us/

or fax to (703) 935-8543; and as always, you can call us at (703) 847-3123.

Thank you for your business!

https://www.sierracorporation.com
© Sierra Corporation 1998-2021