Protect your data!
Backups are not optional—while the advancement of technology and its integration into our lives is responsible for many of the wonderful things we now possess and use on daily basis, the protection and storage of the data it relies on, has become a responsibility that all businesses must take seriously. The reality is that your business regardless of its size is a living and breathing a thing. It doesn't matter whether you're running a small business or a large corporation that employs thousands of Americans, properly maintaining the data you and your customers rely on is necessary for your businesses continued growth and success.
Multiple backups are a must—although it can be agreed upon across the board that backing up your data is important, many businesses fail at this due to the time it takes and its complexity. As a client of Sierra, we take your data very seriously. Backing up data is never just a one and done process; computers and other technology related solutions are always changing and therefore require a more proactive approach. Regardless of whether you need to back up a corporate website or multiple computers on a network, we have developed a standardized approach. 
Backups are meant to be a life boat when a disaster happens, but having a simple plan B is never enough. That is why our backup plan consists of:


Taking multiple backups to ensure you always have a copy available should the unexpected happen.

Storing backups in a variety of locations such as: external storage drives, a

network drive cloud service, a secured third-party server with FTP access.




After the data has been successfully backed up to the secondary location located off-site, multiple copies of that data is then copied over to a cold storage location—this is a location to where everything needed to restore the backup must be produced or brought on-site prior to successfully being able to restore the data from the backup. Having multiple redundancies in place ensure that there are always other secured ways of retrieving the essential data in the event that it is lost due to an unexpected event.
Prepare for the worst and hope for the best—while it is true that there is no telling when a disaster will happen, it's always better to be prepared for the worst and hope for the best. With Sierra Corporation as your managed services provider we understand how important having an effective plan of action during an unexpected emergency can be. It is for this reason that even though it is common for some businesses to believe that having a single backup is enough, this is simply not the case. The data that you produce and rely on day in and day out in the business world is vital to the success of your business and should be protected at all times!
If you would like to know more about the data backup and disaster recovery services offered at Sierra Corporation, please call us at (703) 847-3136.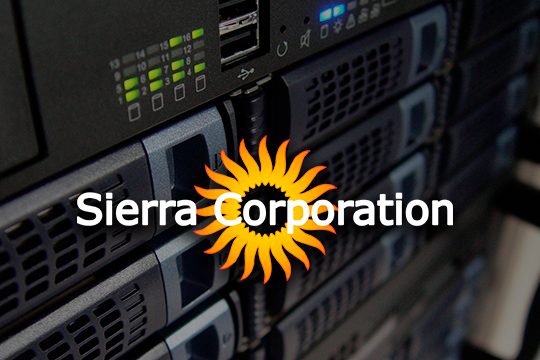 Dependable Support and Security
Being your managed service provider we understand that downtime is never acceptable. As a Sierra client, we actively monitor your systems to ensure that all your systems are up to date and running smoothly with the best security practices in place. The world of IT is always changing, but you can rest easy knowing that our team of knowledgeable technicians and support specialists are always just one email or phone call away.


Having been in business for over 20 years, we know the industry and understand the struggles that come with running a business. Your success is important to us and we will always look forward to servicing your IT management needs in the future.


For questions or to schedule a free 15 consultation please call 703-847-3136.
Our Services
‍Since 1998 Sierra Corporation has been providing IT and Computer Services.  We are proud to provide IT Solutions that help businesses like yours be more efficient, productive, and profitable.
On-site or Remote Technical Support

Computer/Server Repair

Network Configuration/Troubleshooting

Server Configuration/Troubleshooting

Data Recovery/Prevention of Lost Data

Simple and Complex Secure Back-up Solutions

Monitoring Tools – that can be deployed to assist in resolving issues with your network and devices.

VoIP Phone Systems – Stop paying huge phone bills!–provide voice service over the internet. Enables you to have a full featured phone system similar to what Fortune 500 companies use, but at a much lower cost!

Web Hosting, Email Hosting & Development

Website and web application development

New Computer Hardware – we do not mark up equipment sales to our clients, our discount is passed onto you, and so you get great prices when you need equipment! we are a reseller for Dell
You will find our response time to be the fastest in the business!
 

‍Sierra Corporation
VA (703) 847-3123
______________________________
IT Solutions
Web Application Development
DELL Reseller
Sierra Corporation
https://www.sierracorporation.com
Confidentiality Notice: This communication is from Sierra Corporation, and is not sent on behalf of any other individual or entity. This email may contain information that is confidential and/or proprietary. Such information may not be read, disclosed, used, copied, distributed or disseminated except (1) for use by the intended recipient or (2) as expressly authorized by the sender. If you have received this communication in error, please immediately delete it and promptly notify the sender. E-mail transmission cannot be guaranteed to be received, secure or error-free as emails could be intercepted, corrupted, lost, destroyed, arrive late, incomplete, contain viruses or otherwise. Sierra Corporation does not guarantee that all emails will be read and do not accept liability for any errors or omissions in emails. Any views or opinions presented in any email are solely those of the author and do not necessarily represent those of Sierra Corporation. Nothing in this communication is intended to operate as an electronic signature under applicable law.
____________________________
Your referrals are always appreciated.
 Please send any comments or suggestions through
https://www.sierracorporation.com/contact-us/
or fax to (703) 935-8543; and as always, you can call us at (703) 847-3123.

Thank you for your business!

https://www.sierracorporation.com
© Sierra Corporation 1998-2022